Upper Valley Land Trust, Inc.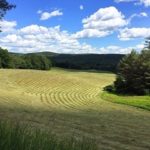 Description:
The Upper Valley Land Trust has been working with farmers to protect important farmland in the Upper Valley for more than 25 years. Farmland conservation ensures that land in our region will remain available and viable for agriculture in the future. The farms and farmland we protect are actively contributing to local and regional markets, selling milk, meats, vegetables, fruit and value-added farm products. Farms we have conserved include a wide variety of operations such as Community Supported Agriculture (CSA) businesses, whole-sale producers, and those with local farm stands.
When a farm or farmland is conserved, the farmer sells or donates the development rights on the land so it remains undeveloped and available for agriculture. The sale, or bargain sale, allows the farmer to reinvest in the farm business, retire debts, or prepare for an inter-generational transfer of the land.
Funding for farmland conservation typically comes from state and federal initiatives to support land conservation; these funds are often matched with dollars from our local communities. Funding is prioritized and based on the potential long-term viability of the farmland, which in turn depends on multiple factors, including the quality of the farm soils, farm infrastructure, location and access, as well as the strength of the existing or proposed farm business plan.
The Upper Valley Land Trust pursues farmland conservation funding throughout the year and would be happy to explore and discuss conservation opportunities and outcomes that might work for your farm.
Send Message to listing owner